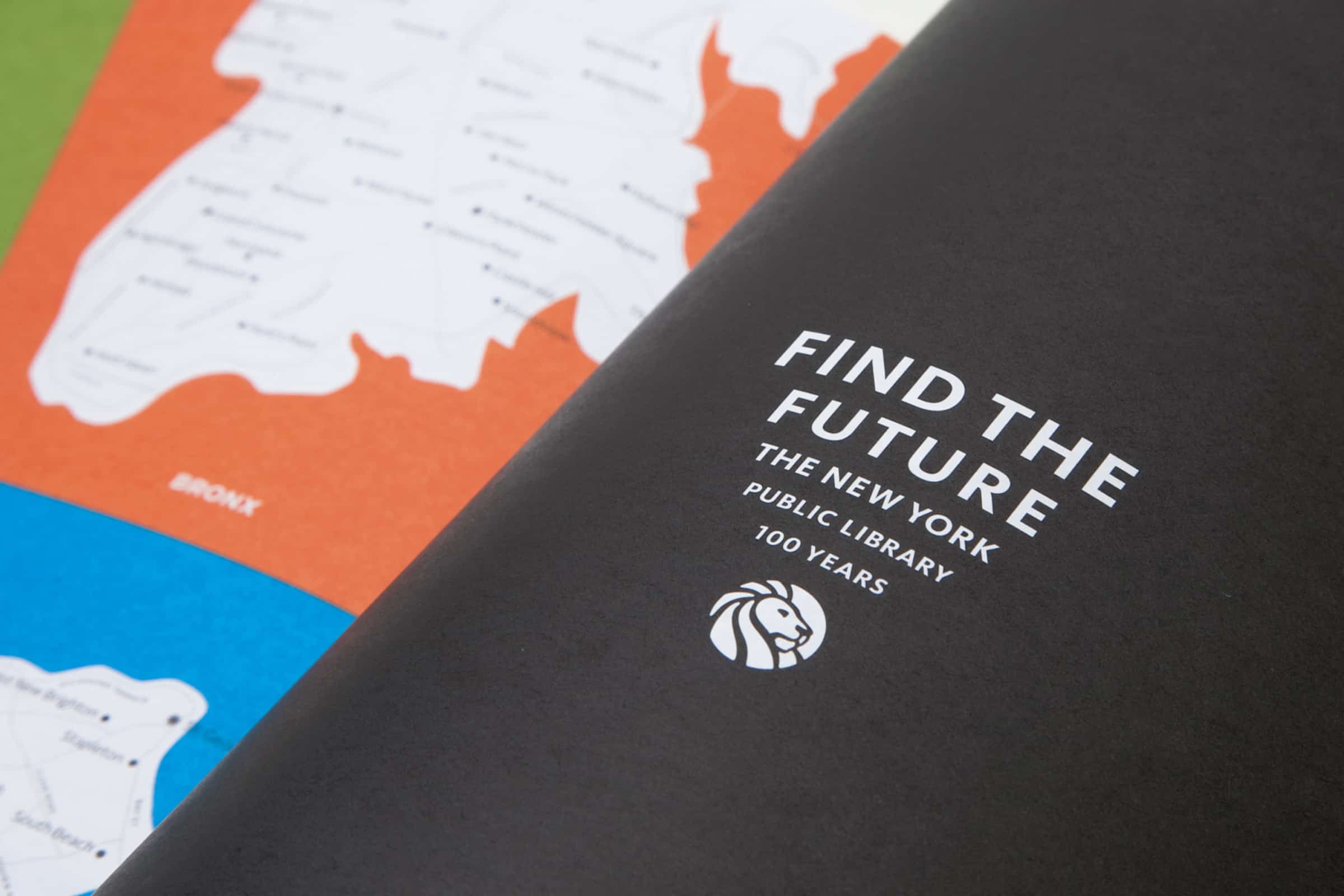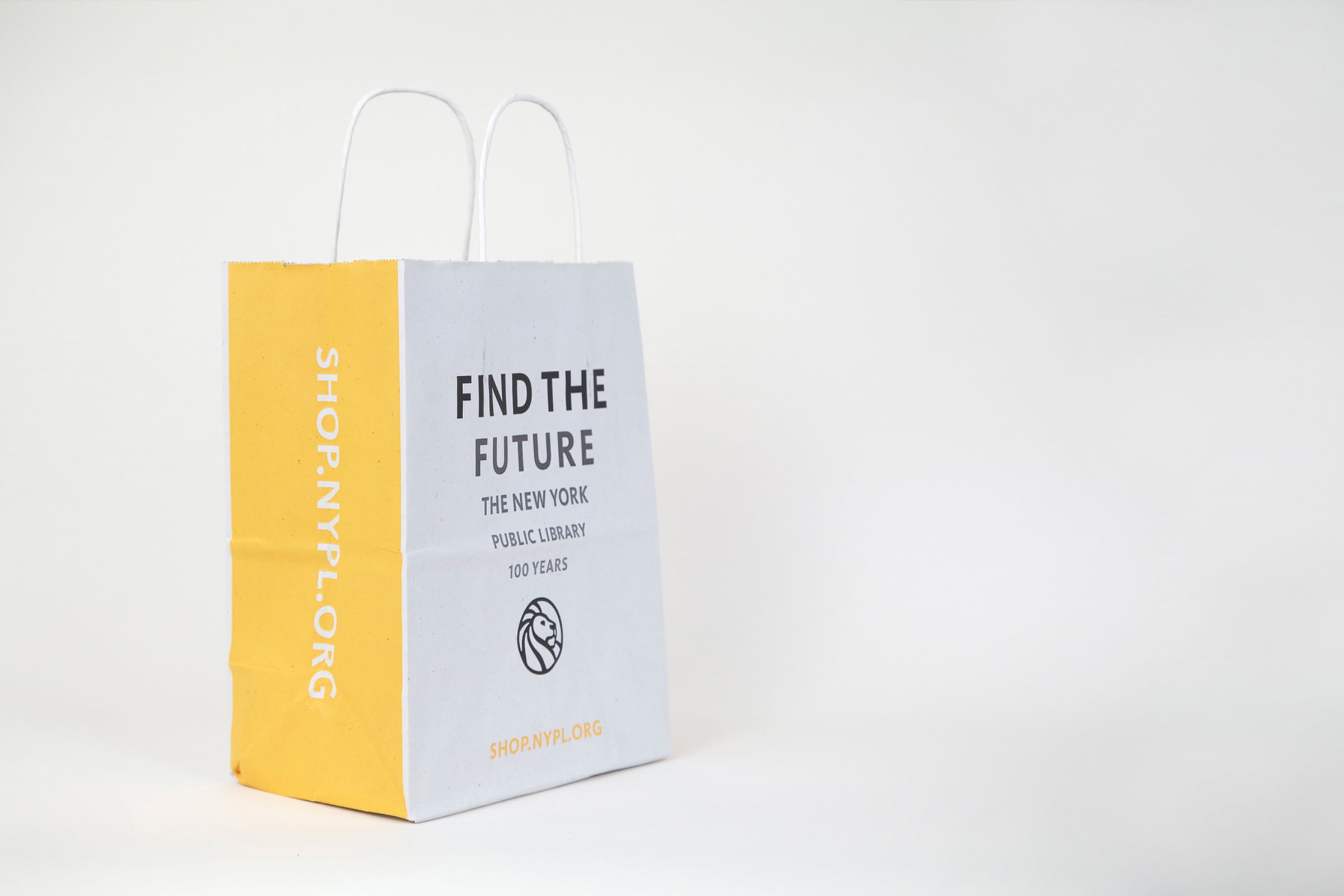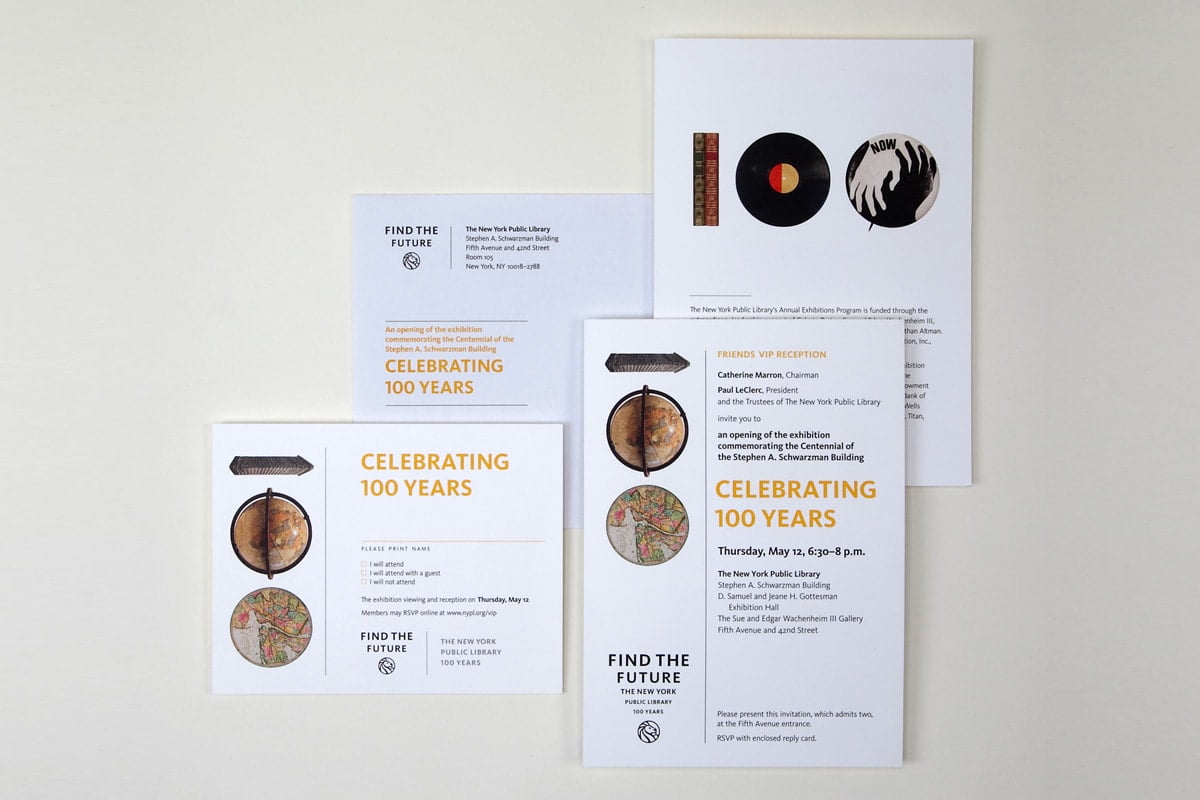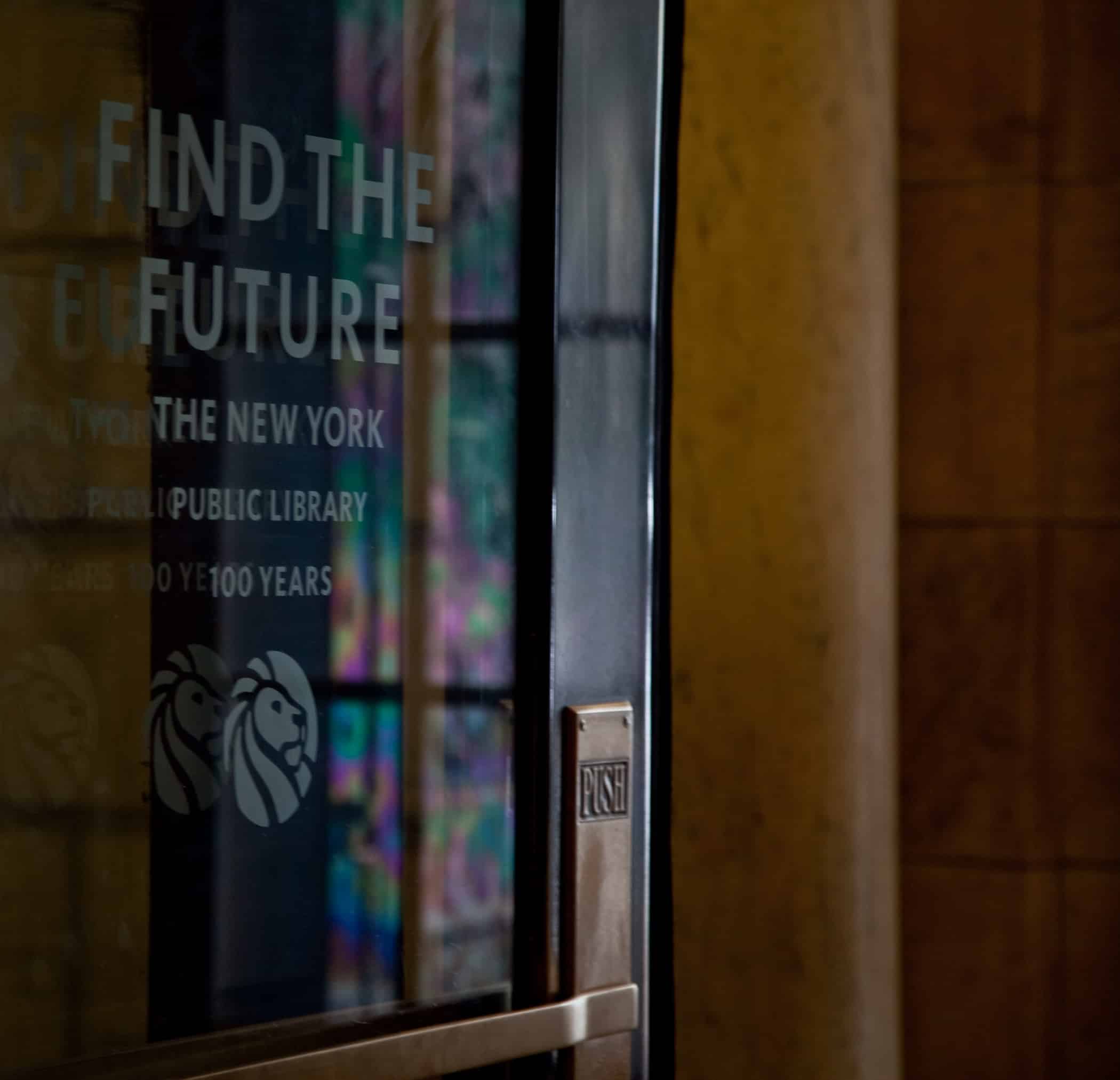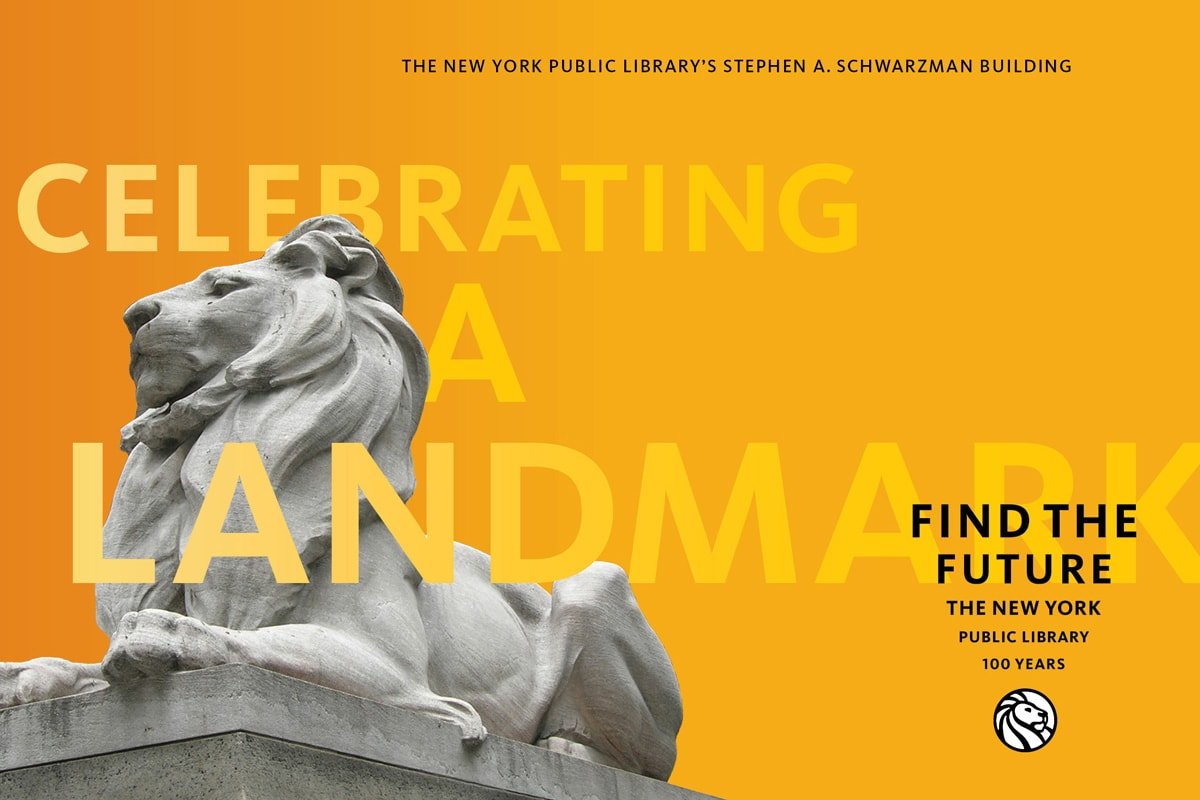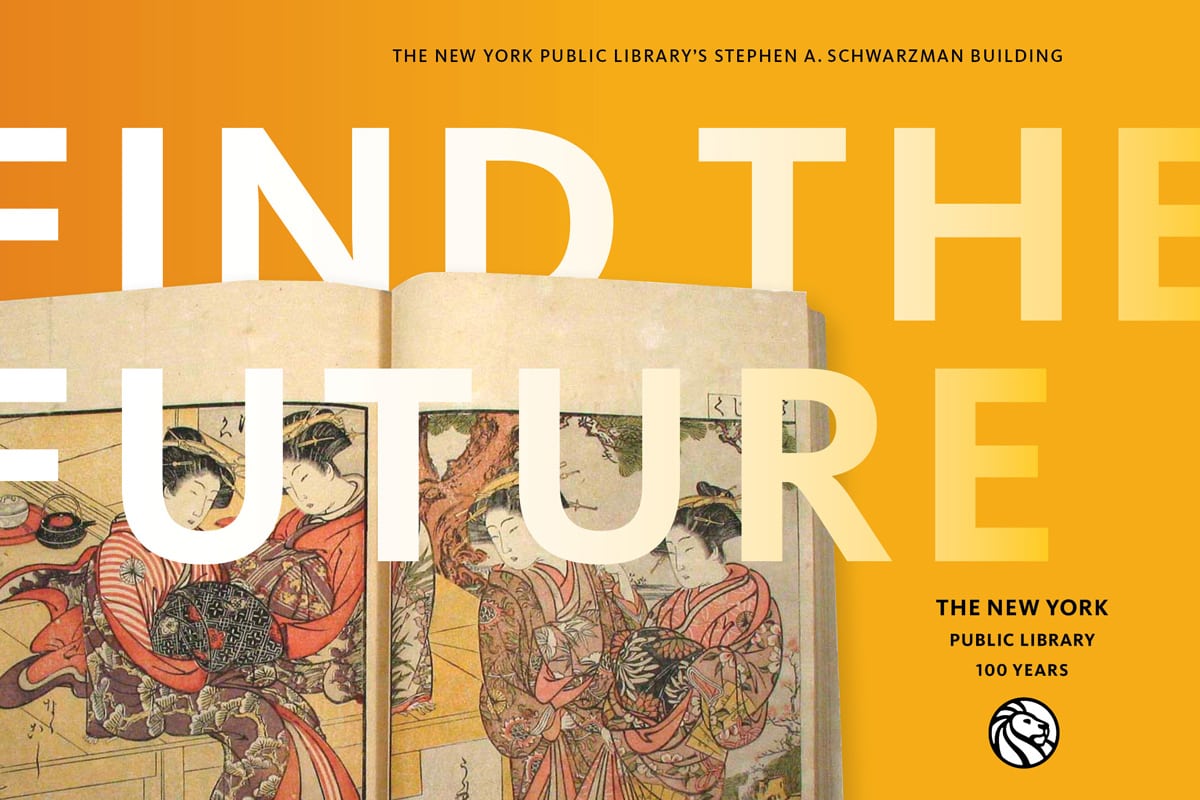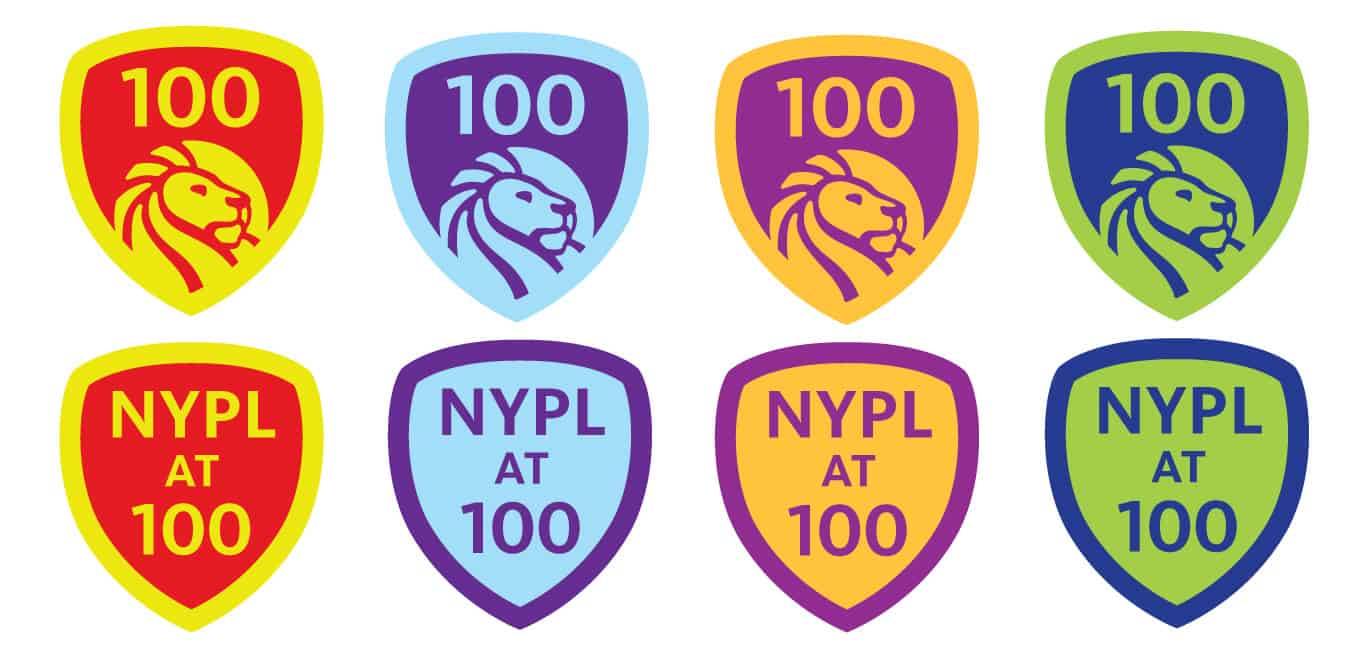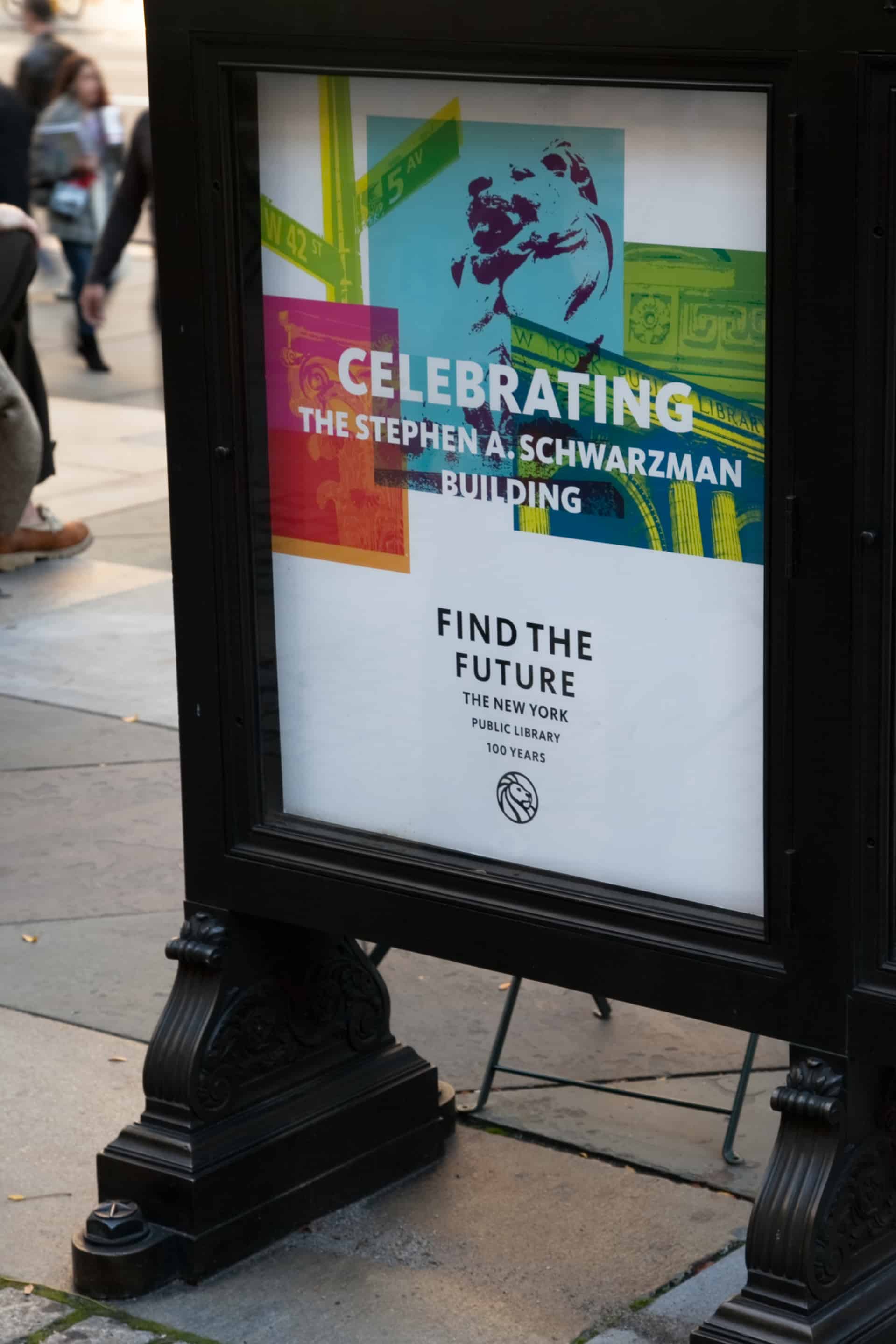 CHALLENGE
The New York Public Library pulled out all the stops to mark the 100th birthday of the Stephen A. Schwarzman Building, the main library building at 42nd Street and 5th Avenue, the "crossroads of the world." The celebrations would culminate with a three-day city-wide festival. A versatile and adaptable visual identity was required for use in a wide range of promotional and branding applications.
PROCESS
After extensive group studies, the festival tagline "Find the future" was developed. Using this as a springboard, I designed a festival logo, font system, color palette, and other visual identity components. I gave the tagline top billing, to reinforce the forward-thinking attitude of the library, and to stoke the curiosity of viewers. I designed the logo to evoke an arrow with the NYPL lion as its destination. The identity system would be adopted and employed by multiple creative partners, each working on a different spoke in the marketing wheel.
A sweeping campaign for print, online, and city-wide outdoor advertising was developed by Collins, and Pentagram designed a giant centennial exhibition. Penguin published a special edition book saluting the library, co-authored by 100 A-list celebrities — 25,000 books were distributed to the public, who were encouraged to share them. A video game app was created by pioneering game designer Jane McGonigal — 500 participants were sequestered in the main library building, where it was used as part of an-all night scavenger hunt. Swag and retail products were produced. A groundbreaking library iPad app was developed. Barbara Walters hosted the building's re-dedication ceremony, featuring readings by Library Trustee Toni Morrison and others. An interactive festival website was launched.
The extended weekend celebration included concerts, readings, and workshops throughout the city — many featuring world-famous artists, writers, musicians, and performers.
I collaborated with each partner for every aspect of the celebration. My team designed a multitude of pieces in every medium, from environmental graphics to print to web.
RESULTS
What a turnout! Attendance at this mega-event across Manhattan, the Bronx, and Staten Island was unprecedented. Thousands of people joined the 'round-the-clock festivities.
Of all centennial data reported, online stats reflected the largest public response: a 45% increase in social media interactions and 183 million total media impressions during the campaign. Online ads were especially successful in driving people to the NYPL website, where click-through rates for its ads were two to three times higher than usual. Screen completion rates (i.e., the number of visitors who follow a call to action on a web page) for ads for the NYPL game were a whopping 30 times higher than standard, driving people to nypl.org to download the game app.
Through this celebratory event, more than $2.4 million was raised to support the Library's essential work in New York and beyond.
. . . . . . . . .
SERVICES
Art direction | Identity/branding | Graphic design | Website design | Illustration | Advertising | Signage
TEAM
Art direction & design: Marc Blaustein
Additional design: Katharina Seifert (misc. + website, shown), Matt Poor (misc. + Foursquare badges, shown), Daniel Um (misc.)
Creative partners: Collins:, Pentagram, Pure + Applied, Catherine Harvey Design, Potion, Penguin Publishers